Silzous is a skin in Piggy. He was mainly designed by TenuousFlea, the person that previously designed Billy and Kraxicorde, along with other contributors. He was released three days after Lab - Chapter 12 released.
Appearance
He is a large, green snake with two long, white fangs and a red forked tongue coming out of his jaw. He also appears to have two gray horns coming out of the top of his head and a cobra hood on sides of his head. He has one triangular-shaped, orange pupil in his left eye while the other one is black. He wields a Labrys axe that has a brown handle with a glowing, blue light at the joint where the blades meet. He appears to have silver bracelets on his wrists and a brown sack on his back with many skulls that have red eyes inside. He wears a silver chain wrapped around a yellow shirt that droops down to his tail and a belt with a glowing, blue diamond on his waist.
Animations
Idle
He stands still, looking right to left while flicking his forked tongue and wriggling his tail. Holds axe over shoulder.
Walking
He slides forward while moving his arms and slithering his tail.
Jumpscare
Has a short delay before grabbing axe with both hands and swinging it at the head or chest area of the player. The black patterning under his eyes and spots of tail glow orange.
Stunned
He clutches his right arm while his upper torso flops up and down.
Jump
He slightly moves both of his arms up while facing his head down.
Fall
He puts his axe down on ground and his arms raise while his head faces up.
Trivia
He is the third skin to be designed by TenuousFlea, the person who created the original and revamped Accurate Piggy Roleplay. The first was Billy, and the second Kraxicorde.
He is the most expensive skin in Piggy, costing 725 Piggy Tokens, beating Kraxicorde by 25 Piggy Tokens.

Originally, he was planned to share his cost with Kraxicorde.

Interestingly, he has arms, while real snakes are limbless.
He is the first to have a visible tongue.
He is AroAce (Aromantic Asexual). This was confirmed by TenuousFlea.
He is the second character has non-circular pupil, with first being Kraxicorde.
He is the second skin to laugh in his jumpscare, the first being Clowny.
This skin was originally going to release along with the Lab - Chapter 12 update but it was delayed because of a Roblox engine bug that essentially broke the skin's mesh.
He is the only skin to have more than one soundtrack.
It has been confirmed by TenuousFlea that he is a member of the Insolence.
In the intermission menu, the skin is not in the center, but near the right edge.
The skulls in his sack may be a reference to his teaser, when he chopped some pigs' heads off and put them in a brown sack.
This is the second skin to have an unique jump and fall animation, the first being Spidella.

Coincidentally. both skins' jump and fall animations are animated by the same person: PghLFilms.

He is currently bugged and cannot use Teleporters.
Oddly enough, when Silzous attacks Pony, the black patterning under his eyes and spots on his tail don't glow orange.
Leaks
On September 28th 2021, TenuousFlea uploaded a teaser video on his YouTube channel showcasing the then-upcoming skin.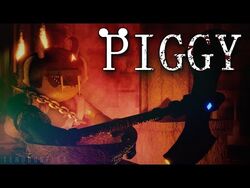 Audio
Sound Origins
Soundtracks
Lyrics
"By my troth, I'm letting no one stay, all must be slayed. Pledge for mercy, run far away with anxiety. My dark influences shall rise one day, in a hideous way. No one shall stay awake, I'm a sinful snake."